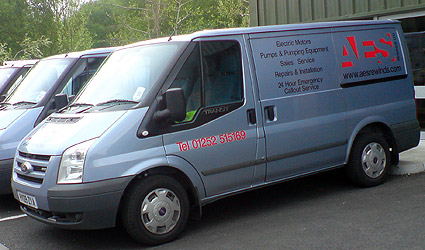 We are AES Rewinds, specialists in the maintenance, refurbishment and repair of industrial equipment. Ever since sparking into life in 1948, we have sought to achieve the very best in customer care and quality service. From our offices and workshop in Ash Vale, on the outskirts of Farnborough, we operate a squadron of purpose-built vans, each equipped with the latest in electro mechanical equipment, and each capable of dealing with any situation. Driving these vans, but also doing so much more, are our dedicated experts, and while the vans might be equipped with the latest equipment, our engineers are equipped with years and years of experience.
Our humble beginnings can be traced back to unreliable car electrics. Following the gradual improvement of automobile technology, we transferred our sizeable set of skills to pastures new, with the repair and maintenance of pumps, motors, fans and switchgears becoming our forté. In addition to maintenance and repair, we are also suppliers, meaning that we do not just repair machinery using any components. We use the very best parts. After all, we put our name to them.
At AES Rewinds, we know that equipment, and particularly the industrial type of equipment we specialise in, can malfunction at any time, which is why our engineers are available for emergency call outs, and carry out each job with health and safety at the forefront of their minds. Industrial equipment is extremely important; one bit of shoddy work and things can go wrong on a huge scale. Businesses must ensure that they comply with regulations put in place by bodies such as the Environment Agency. Perhaps wear and tear has left your equipment in sub-par condition, or your hydrocarbons (oils, grease, fuels etc.) run the risk of mixing with rainwater run-off. Time to call the experts.
Over the years we have pulled and shaped our service – in the nicest way possible – so that it covers a vast array of technical and geographical areas, be it pumping station maintenance in Berkshire, or fan repairs in Surrey. 66 years in the game means that we are never fazed.
Here we have evolved along with the industry itself, and having worked with brands from ABS and Conder, to Kingspan and Titan, we know what clients want, and how best to cater to their needs.