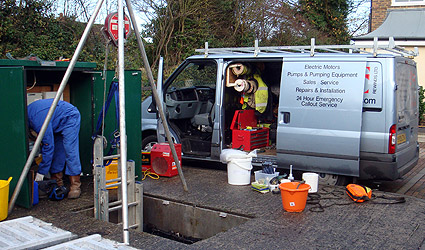 Pumping Station Maintenance
Pumping stations are rather sizeable, and so is the number of components which are required to keep such facilities ticking over. Not surprisingly, our engineers are often called out to tend to a number of pumping station-related issues. From submersible pumps falling victim to their hostile environment, to level sensors and control systems, our engineers expertly maintain them so as to ensure increased longevity.
While we advise customers to maintain all pump station equipment, the occasional failure of such equipment is inevitable. Faced with such incidents, our engineers spring into action, with 24/7 service ensuring that, no matter how serious the problem, it will be fixed in an extremely timely manner.
Sewage Treatment Plant Maintenance
Up and down the country, sewage treatment plants, both big and small, are hard at work, with hundreds of different parts, including pumps, blowers, and motors, working away together. Our maintenance inspections and meticulous water testing are the only true ways for business owners to ensure that their treatment plants are doing what they are supposed to. This is something that the Environment Agency will catch you out on, and believe us, the costs incurred by such an avoidable occurrence are brutal. Our 60 years of experience have taught us that staying on top of maintenance is the best way to avoid unnecessary, and potentially crippling, costs.
Water Booster Maintenance
Buildings over two storeys high can often struggle when it comes to water pressure, thus creating the need for water boosters. Whether maintaining or replacing, our expertly trained engineers are on hand to maintain or replace said water boosters, which in turn prevents any water supply-related disasters. We also offer water testing in accordance with ACOP L8 – the Health and Safety Commission's Approved Code of Practice. Following the provisions set out by this body, we ensure that your water is free from Legionella. With our comprehensive service, you needn't ever worry about the state of your water or its supply.
Oil Water Separators Maintenance
The Environment Agency stipulates that all hydrocarbons (oils, grease, fuels etc.) must be kept separate from rainwater run-off so as to prevent the pollution of ground water. The regular maintenance of these oil water separators is crucial. Accidental pollution can spell the end for a company, not to mention the horrific environmental damage that can ensue. However, this will not happen on our watch. AES Rewind staff are equipped with every tool needed to maintain and replace oil water separators. The various accreditations that our work has earned also ensure that everything we do meets the highest possible standards, both in terms of quality and health and safety.