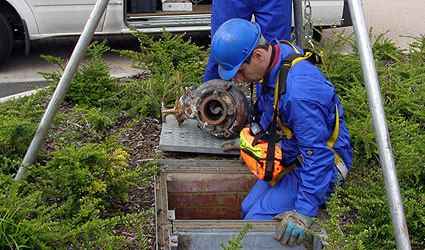 Pumping stations are critical components in sewage and surface water systems, and their failure can cause catastrophic and costly damage to homes and businesses alike. That's why it's absolutely essential to keep pumping stations in full working condition by scheduling regular, expert maintenance and inspection. Here at AES Rewinds Ltd, we understand how important pumping station maintenance is, and we possess the experience and expertise required to deal with the particular challenges posed by working in such dangerous and undesirable environments.
Pumping stations lift foul / waste water from gravity-fed wet wells into rising mains, moving waste to higher elevations and ultimately to mains treatment plants. When a pumping station fails, waste / foul water can be left to go septic, and could even back up and be discharged into the environment or into properties. The risk is higher during severe wet weather, when the activation of additional pumps may be required to cope with the flow. A pumping station failure can potentially lead to massive costs, huge amounts of environmental damage and the devastation of both residential homes and businesses.
However, the risks of such catastrophes can be reduced with regular maintenance and inspection of your pumping station. With expert attention at regular intervals, the longevity of a pumping station can be significantly improved and the risk of failures and blockages reduced. At AES Rewinds Ltd, we work with both national and local drainage companies, and our extensive experience and highly qualified engineers make us the ideal choice for your pumping station maintenance needs.
Modern pumping stations utilise submersible pumps, which operate in a very hostile environment within the waste itself. This not only affects the operation of the station, it makes for an extremely hazardous working environment for engineers. Poisonous gases, such as hydrogen sulphide and methane, can accumulate, and the confined space of a pumping station adds to the health and safety implications for pumping station engineers. At AES Rewinds Ltd, we understand these risks, and our engineers are highly trained and equipped to meet modern, exacting safety standards. We're accredited by SafeContractor, CHAS and ConstructionLine so you can be confident in our quality standards and health and safety compliance.
Pumping stations also include sophisticated electronics, including control systems and level sensors. These are just as important as the pumps, and an electronic failure poses just the same risks as a mechanical one. That's why our comprehensive pumping station maintenance packages include full and expert servicing of electronic systems. For more information about what AES Rewinds Ltd can offer, contact us today.