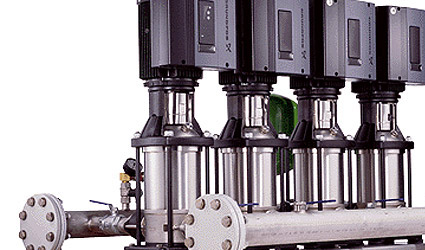 Varying water pressure is typical in high rise residential and commercial buildings of more than two storeys. These are often buildings where pressure from the mains supply alone is not enough to provide an adequate water supply.
Issues such as poor performing showers and slow filling toilets can, therefore, be a significant cause of irritation to residents. And consequently, provide inadequate sanitation for modern living.
Keeping a water booster in good condition is not just a consideration for landlords. Our clients also include commercial enterprises such as golf and leisure clubs, where irrigation and sprinklers are vital to the success of their businesses.
Installing a Water Booster Pump Set
Installing a water booster pump set is often the ideal solution to overcome low pressure. It can significantly improve flow to the entire system and all appliances connected to it; from showers to washing machines and sprinkler systems. In such locations, a water booster set provides an indispensable function in keeping buildings legally habitable.
Water Booster Maintenance: Avoid Unnecessary Costs
Booster systems are often positioned away from main thoroughfares so can easily be forgotten and not adequately maintained. Typically, until something breaks. Putting in place a regular maintenance plan creates less worry, time and resources in the long-term.
If a water booster set in a residential building fails, residents can in some cases lose their essential water supply. Costs such as temporary water supplies or temporary accommodation can quickly escalate.
Landlords and Employers
Regular inspections and maintenance of your building's water booster equipment are essential if you are a landlord or employer. The responsibility falls on you, along with any fines incurred for damage or health risks incurred when failing to do so. You must be aware of your legal obligations under the national H&S Executive's Approved Code of Practice.
One of the elements in the code of practice requires you to manage the risk of Legionella in your building. Internal water infrastructures are significant risk factors, as are water boosters and cold water storage tanks.
For this reason, it's essential to regularly inspect your water booster equipment by expert engineers and by a relevant water testing and chlorination company. Choosing AES Rewinds will guarantee these tests are fully compliant with ACOP L8.
Affordable Maintenance Plans
AES Rewinds can provide regular, thorough inspections and maintenance of your water booster equipment, giving you peace of mind and help to avoid the hassle and expense of failure. Our affordable maintenance plans use decades of experience in reducing the stress associated with managing multiple properties.
We've nurtured great relationships with many landlords and property management companies, both locally and around the UK. Why not join the scores of other Hampshire, Surrey, London and nationally based companies that share our proactive, hands-on approach.
Exceptional Customer Service
Exceptional customer service is our key motivator. To support this we only employ the best to represent AES Rewinds. Our highly qualified engineers are both professional and personable and we are SafeContractor, ConstructionLine and CHAS accredited, so that you are assured of our quality and safety compliance.
We want to help ensure your water booster system stays free of problems, enabling you to avoid unexpected failures. Contact us for more information about our maintenance and inspection services.