Since 'sparking' into life as a business in 1948, AES Rewinds has moved from strength to strength. That's right, this year we're celebrating our 60th birthday!
AES Rewinds: Motor, Pump and Fan Repair
Our customers have always been our priority. We firmly believe that the success of AES Rewinds has been our commitment to our customers. By sharing our years of knowledge and providing exceptional customer service, we've built strong relationships that we're incredibly proud of.
Our mission from the start has been to provide authentic, honest and friendly customer service while providing maintenance and repairs of the highest quality. We strive to achieve this daily and continue to learn and improve to give you the best service possible.
In the Beginning
Our obsession with fixing unreliable car electrics was the start of our sixty-year journey. This obsession grew, along with our skills and experience.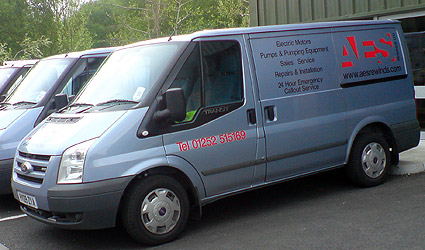 As automobile technology improved, we migrated seamlessly towards the repair and maintenance of pumps, motors, fans and switchgears.
It became our forté and our reputation as the 'go to' company in the industry grew. Along with our team!
Our Team
The majority of our highly skilled engineers have been with us a long time, becoming part of the furniture. It was and still is, a priority for us to only employ the best, highly qualified and reputable engineers. We know they're our secret weapon. They're the ambassadors of AES Rewinds, and if we don't choose the best, we know we can't be the best.
All our engineers operate from purpose-built vehicles, giving them access to the most advanced tools and electromechanical equipment. It ensures that with their commitment, expertise and the best tools, they are capable of managing all situations.
Our Home in Ash Vale, Surrey
Every good team on the road needs great backup support. We're so fortunate to have the very best working both 'front of house' and 'behind the scenes' to support our engineers. Here's a quick introduction, but do feel able to pop in and meet us all in person!
Keith is our Managing Director and has been in the driving seat of AES Rewinds. He is ably assisted, (some say 'managed'!) by Shirley, also one of our Managing Directors. Shirley is the force behind our workshop paperwork and ordering system running smoothly and proficiently.  
Amanda is our General Manager, Keith and Shirley's go-to when they are not available. Amongst many other key responsibilities, her main focus is ensuring all works are scheduled and contracts are efficiently renewed, and everyone's happy!
Julie-Ann is likely to be the lovely lady you talk to when enquiring about a new contract. Her official title is Sales Director.
Karen is our Administrator, dealing with the day to day paperwork for on-site visits, emergency callouts and follow-on remedial works quotes. As well as those all-important invoices.
The descriptions are short and don't begin to describe the true value they all bring to AES Rewinds.
Along with our workshop and on-site engineers, they are a team that work very hard and are all instrumental in our success as a company.
Our Workshop
At AES Rewinds, we know that industrial equipment can malfunction at any time. But, as with our vehicles, our workshop is fitted with the latest technology and tools enabling us to repair the majority of equipment effectively and efficiently. It's why we're proud to hold a CHAS, SafeContractor and a ConstructionLine accreditation, guaranteeing our work is completed efficiently, saving you time and money.
Our knowledge has evolved along with the latest technology and access to industry expertise. We work with only the best for supplies and parts to fix your machinery. Brands from Grundfos, Kingspan and Vent-Axia (to name but a few). All the best at what they do, with customer service and quality their priorities. Their commitment and values sit perfectly with ours at AES Rewinds.
Our Customers
We believe after 60 years that we know what our customers need. A fast, reliable and efficient service that will keep their business running smoothly and within Health & Safety guidelines.
And that's what we do, every day. Our loyal customers are from a wide geographical area and range of industries. We consider ourselves to be part of their team, not just people they call in a crisis.
We're always ready to welcome new customers to our team. Give us a call or pop in to meet us at our Ash Vale offices, near Farnborough. Keith has the kettle on constant boil!