In most cases, our highly skilled engineers will be able to fully repair your machinery on site.
On some occasions, however, this may not be possible. In such circumstances, a visit to our specialist workshop near Farnborough will answer all your questions and solve any problems.
Inspect Equipment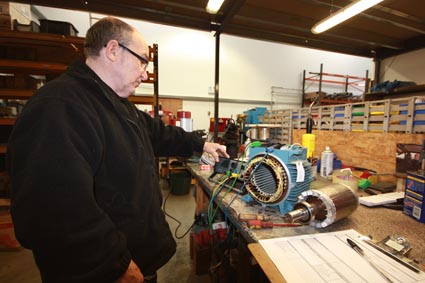 An initial inspection, by our highly skilled engineers, will determine the fault. We will then be able to recommend whether a repair or replacement is the better course of action. If you are unable to transport your equipment to us, we can arrange collection from you.
Repair or Replace Options
We will only dismantle your equipment when we are sure that the issue is more than a faulty capacitor or loose connection. Once we have established the issue, together, we will agree the best route to take. With your approval, we will then disassemble the equipment. This allows us to carry out a more detailed inspection and further tests. We will then be able to ascertain where the fault(s) are.
At this stage, we will then be able to provide a fixed price quotation for the repair. It's sometimes more appropriate to replace rather than repair equipment. If this is the case, then we will advise appropriately and let you know the more cost-effective option for you.
Quality of Workmanship Guaranteed
We only affiliate ourselves with companies who are the best in their field for supplying quality spares and components. And we employ only the most qualified engineers to complete work on your valuable equipment in our specialist workshop.
So you can be assured that if a repair is feasible, we will complete it as soon as possible. Our expert team work efficiently to guarantee minimum disruption to your business.
AES Rewinds is CHAS, SafeContractor and ConstructionLine accredited so you can be sure of exceptional service with full health and safety compliance.
How to Repair or Replace Your Equipment
View our Repairs page for more information on the wide variety of industrial and commercial equipment that we are equipped to repair.
For more information on the types of equipment we repair, find out more about our services, contact us today, we will be delighted to help.