Equipment Services
We have over 60 years' experience providing industrial equipment maintenance, refurbishment and repair services in Surrey, Hampshire and London.
Our Promise to You
We understand that to be profitable and successful, a business's main elements have to work efficiently and effectively.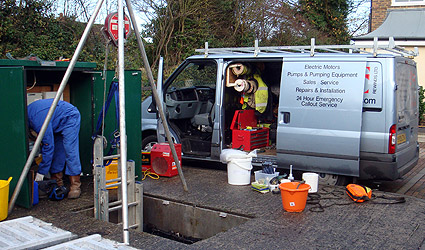 "Customers don't care about your policies, systems, technology or other limitations…they only care about what will make their world easier and better" – Don Shapiro, Business owner.
We work hard to ensure your machinery, the key to your business is working to the best of its capabilities at all times. We strive to make your working day easier and better. To make this possible, we've put together some fantastic service packages to deliver that promise to you.
Pumping Station Maintenance
Pumping stations, by their very nature, can be substantial in size and complexity. And therefore, the number of components required to keep them operating at optimum levels is considerable.
It's not at all surprising that our engineers are busy attending sites that contain a problematic pumping station (or two).
These range from submersible pumps falling victim to their hostile environment, to ineffective level sensors and control systems.
We can also arrange the tankerage of sewage pumping station chambers alongside maintenance visits to ensure all aspects are taken care of regularly and routinely.
Our engineers can keep equipment expertly maintained to increase their longevity and their effectiveness for your business.
Sewage Treatment Plant Maintenance
Sewage treatment plants play a vital role in our health and that of the environment. After all, it typically contains hundreds of parts such as pumps, blowers, and motors, working together.
How can you possibly know how it all works? Well, fortunately, you don't have to!
AES Rewinds maintenance inspections and water testing completed by a certified water lab locally ensure that treatment plants are doing exactly what they are supposed to.
With over 60 years' experience in our industry, we have the expertise necessary to comply with essential government legislation, taking the unnecessary worry from you.
Water Booster Maintenance
Water boosters are often a necessity in multi-story buildings. Whether maintaining or replacing, our expertly trained engineers can help you avoid water supply-related disasters.
We also include water testing and chlorination in accordance with ACOP L8 – the Health and Safety Executive's Approved Code of Practice.
Following the provisions set out by this body, our comprehensive service complies with these water safety requirements to ensure that your water is free from Legionella.
Oil Water Separators Maintenance
The Environment Agency stipulates that all hydrocarbons (oils, grease, fuels etc.) must be kept separate from rainwater run-off to prevent the pollution of groundwater. To facilitate this, regular maintenance is crucial.
Accidental pollution can have a truly detrimental effect on the environment, however, it can be easily avoided with due care, and regular maintenance (and tankerage) of equipment.
Maintenance Plans
A breakdown caused by the lack of servicing, inspection, or by not having access to 24/7 emergency callout, can have a devastating effect on any business. Fortunately, there is a solution to avoid this scenario. 
Find more details on each of our maintenance plans:
We employ only the most qualified engineers to complete work on your valuable equipment. Located in Ash Vale, near Farnborough, we can easily access outer North West London, across the South West and the South East of England including Surrey, Hampshire and London.
AES Rewinds are CHAS, SafeContractor and ConstructionLine accredited, so you can be sure of exceptional service with full health and safety compliance.
Contact us to find out more about our repairs services and to book your tailored maintenance plan.