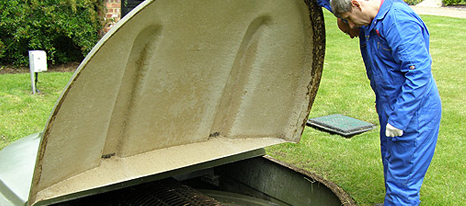 Following the invention of the first septic tank in 1800, little changed over the next 200 years. However, in recent years, the advancement in technology has allowed for improved processes, leading to larger treatment plants.
This has helped to minimise costs to both private companies and local authorities. Now, running operations are more effective and efficient, reducing the amount of downtime previously incurred by poor systems and process management.
Why are Sewage Treatment Plants Needed?
When we treat wastewater, we are looking to improve its quality, so that it's safer to discharge back into the environment. The higher the quality of the treated wastewater, the better it is for us and the environment.
If you are disposing of any waste through a method other than regular mains drainage, a treatment process is needed to maximise its quality and safety.
Common issues to look out for
Common issues associated with a malfunctioning waste treatment plant include:
Tripped pumps that cause the biomass to die from lack of air. This leads to a poor or non-existent breakdown of the waste matter inside of the tank, leading to pollution

A chemical overdose, killing the biomass.

An overloading of the plant caused by too much flow entering the system
We recommend that at the very least, any sewage treatment plant should be checked and serviced at least twice a year. 
Running a Sewage Treatment Plant is a Big Responsibility
Failure to maintain a sewage treatment plant can have a huge impact on you and your business. Those around you and the environment depend on you to get it right. This requires vigilance, knowledge and regular plant maintenance.
Our well equipped and highly qualified engineers can help minimise the downtime of functioning sewage treatment plants. Without a doubt, this will save unnecessary costs to your business.
Health
A poorly maintained sewage plant can also have a negative impact on the health and morale of your workforce. Although most cases are relatively mild, each year, some workers will suffer from at least one episode of work-related illness connected to the proximity of a poorly functioning sewage treatment plant.
Most are relatively mild cases of gastroenteritis. Yet, potentially fatal diseases such as leptospirosis and hepatitis, are also reported to the Health and Safety Executive (HSE).
To minimise such occurrences, AES Rewinds can offer you prompt assistance whenever required with our 24/7 callout service. This is an extremely popular choice for many of our clients and comes as part of our tailored maintenance packages.
What is the Difference Between a Septic Tank and a Sewage Treatment Plant?
A septic tank produces a highly polluting effluent which must only be discharged to a soakaway for further treatment of the septic pollutants by the natural aerobic soil bacteria or be tankered away and disposed of in accordance with Health & Safety Regulations.
A sewage treatment plant produces a 'clean', non-polluting effluent which can be discharged directly to a stream, ditch or other watercourses, or to a soakaway for dispersal into the soil. Septic tank systems do not require actual servicing, but sewage treatment plants do.  
Regular Maintenance is ESSENTIAL
To work effectively, two things are necessary for an effective sewage treatment plant – air and 'food'. They use man-made elements to promote the proliferation of natural microorganisms, which include sprinkler pumps, air blowers, or recirculation systems.
In basic terms, this equipment provides oxygen and rotates the liquid to spread the 'food' around the chamber. Therefore, an efficient pump in good working order is essential.
Failing to maintain the plant's equipment can lead to serious increases in the level of pollution it emits into the local environment. This can lead to possible prosecution by the Environment Agency if you do not make yourself fully aware of and follow the guidelines and recommendations for operating a sewage treatment plant.
How Can We Help?
Our priority is to keep your equipment in good working order throughout its life. We know that you have a business to run and therefore minimum disruption is essential. 
Whether that's a regular maintenance visit, an emergency repair or just being at the end of the phone to answer a query, we're here to help. 
In addition, and for your peace of mind, we hold accreditations from Safe Contractor, ConstructionLine and CHAS, so you can rely on us to provide you with the best possible solutions. 
Contact us to arrange a free site visit and provide an individual quote based on your specific requirements.