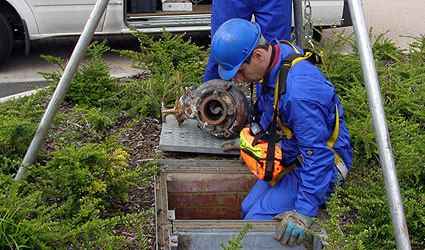 You won't be surprised to learn that a number of components are required to maintain a pumping station and enable it to perform to its highest possible standard.
Our engineers are fully qualified and trained to maintain your equipment, thereby increasing its longevity and saving you money. However, even with this commitment to maintenance, the occasional failure or malfunction can occur.
We, therefore, ensure our 24/7 call out service is an easily accessible and valuable tool.
Minimise Your Risk
All pumps require regular care and maintenance to minimise the risk of breakdown. The following list is by no means exhaustive but gives a few compelling reasons to ensure that you have regular, comprehensive and scheduled maintenance checks undertaken.
"Less than 0.5% of a plant's maintenance budget is spent purchasing lubricants, but the [negative] effects of poor lubrication can impact as much as 30% of a plant's total maintenance costs each year." Q8Oils
Lubrication reduces friction and the heat generated between two surfaces, mitigating wear and tear. However, it doesn't last forever. In time, moisture and dirt can degrade the lubrication. Therefore, it's important to adhere to manufacturer's guidelines and keep up to date records for scheduling top-ups or replacements.
We will soon be launching our own branded grease and lubricant cartridges to help reduce avoidable maintenance costs. Contact us for more information.
Although not typically encountered in municipal wastewater, intermittent industrial discharge or spills may occur within your pump. Metal salts (ferric chloride), for example, can be extremely damaging to your pump's metal components.
Corrosive fluids can also cause damage to sewer and main piping so must be corrected immediately. Be vigilant when it comes to changes in pH balance and rectify before too much damage can occur.
There are numerous sources of vibration, but in most cases, you can take steps to mitigate risks.
Firstly, make sure you select the right pump for the location. Can the pump base plate be securely anchored to a strong foundation? If not, then modifications should be made to ensure it has been balanced appropriately and has good alignment. This is important to provide adequate pump and piping support.
Maximise Your Pump Performance
In general, to get the most from your pump, pay attention to three key areas:
Selection: Have you chosen the right pump for the purpose and location?
Operation: Follow the manufacturer's guidelines. And if you have any questions or would like to know more then feel free to contact us.
Repair and Maintenance: Keep equipment clean, dry and painted. Inspect stuffing box and pump casing for corrosion. Inspect impeller and internal wear components for corrosion, erosion and cavitation. Check all electrical connections and components. We can also do that for you during a scheduled service visit.
Most important of all, book regular inspections from professionals, keeping thorough records of those inspections and repairs.
Call Out Information
If you are a contracted client, we guarantee attendance. If you are not yet a client with AES Rewinds, we will, of course, do everything possible to assist with your emergency and provide updates on our engineers' availability.
Our call out rates will vary slightly depending on the time of day that the callout is made and whether or not you have a contract with us.
Contact us for more information and details on how to take advantage of our 24/7 guaranteed call out service when you register for a maintenance contract with us. This will ensure immediate peace of mind and minimum disruption to your business.
If you need advice on any of the above, just call our friendly team, we are happy to help.
Our base near Farnborough gives us easy access across outer North West London, and across the South West to the South East of England. So we really are just a phone call away.