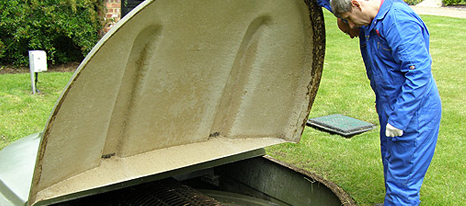 If you run a sewage treatment plant, it's highly important to perform regular maintenance, for the good of the environment and the health of yourself and others. Here at AES Rewinds Ltd we provide an efficient and affordable service. With accreditations by SafeContractor, ConstructionLine and CHAS, you can rely on us to carry out a top quality job. Let's look at what's involved in more detail.
What is a Sewage Treatment Plant?
The equipment / plant treats liquid waste using a biological process, so the waste is fit to be disposed of into a watercourse, with the agreement of the Environment Agency.
Where are they needed?
If you're getting rid of any waste through a method other than regular mains drainage, you need a treatment plant. This could be at a large scale industrial premises or at your home. The options are:
• A simple storage tank or cesspool which is emptied by a tanker when needed.
• A septic tank, which separates solids to be removed by a tanker and lets liquid waste be absorbed by a series of subsoil drainage pipes. You need to ensure you have the right ground conditions and obtain the consent of the Environment Agency.
• A treatment plant which treats the sewage so it is safe to be discharged (with a licence) and decreases the amount of waste to be removed by tanker.
How does it work?
Treatment plants use natural processes, harnessed to neutralise the harmful effects of the waste by up to 95%. There are usually three chambers: the first removes any solid waste which then turns to sludge, requiring tankerage. The main chamber is an oxygen-rich area where micro-organisms are encouraged to feed on organic matter, decreasing its potential for pollution. Finally, the Humus or Clarifier chamber removes any particles which have been brought through from the main chamber, before the waste is disposed of.
How is it maintained?
Treatment plants use man-made elements to promote the proliferation of natural micro-organisms. These include sprinkler pumps, air blowers, or recirculation systems. Failing to maintain the equipment can lead to serious increases in the pollution level and possible prosecution by the Environment Agency. You must also regularly empty the primary and Humus chambers.
Get a Quote
We would need to conduct a site survey before giving you a quote (free of charge), due to the huge range of different installations. Please contact us to arrange a visit.