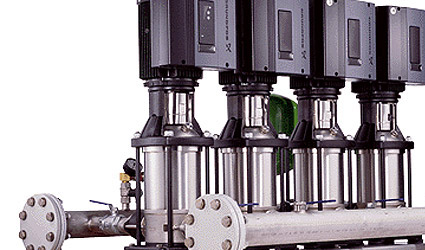 At AES Rewinds Ltd, we understand how important it is for water boosters to be regularly maintained. Our qualified, experienced and highly skilled engineers will carry out regular maintenance and inspections to help ensure that your water booster stays free of problems, enabling you to avoid the high costs of unexpected failures.
Water boosters are most commonly installed in residential buildings of several storeys, where the highest floors are unable to receive an adequate, usable water supply based on mains pressure alone. In these cases, the water booster provides an essential, indispensable function in keeping those residences legally habitable. If a water booster in a residential building fails, residents lose their water supply and the landlord can be left with a large bill for providing costly temporary water facilities or even alternative accommodation. Plus, the repair of a water booster in an emergency situation such as this is likely to be far more expensive when compared to the cost of regular maintenance.
AES Rewinds Ltd can provide regular, high quality maintenance and inspection of your water booster to give you peace of mind and help you avoid the stress and expense of a water booster failure. We work with landlords and property management companies, both locally and around the UK, to keep their water booster systems in good condition, and to avoid unnecessary distress to their tenants.
If you're in charge of a building, either as a landlord or an employer, you need to be aware of your legal responsibilities under the national Health & Safety Executive's Approved Code of Practice (ACOP) L8. This requires you to manage the risk of Legionella in your building, and internal water infrastructure – including water boosters – are significant risk factors. For this reason, it's essential to get your water booster regularly inspected by an expert engineer who is aware of the risks. If you fail to manage the risk of Legionella in your building, you risk prosecution. Fortunately, at AES Rewinds Ltd, tests we offer are fully compliant with ACOP L8, so we can help you stay on the right side of the law.
We can also maintain and inspect water boosters that are used for other purposes, such as irrigation and sprinklers for golf courses and leisure clubs.
We have decades of experience, highly qualified engineers and accreditation from SafeContractor, ConstructionLine and CHAS, so you can be assured of our quality and safety. If you have a water booster, contact us today for more information about the maintenance and inspection services we can offer you.